Virtual Conference Case Study - FST Media
As Auckland (hopefully) nears the end of their second COVID-19 lockdown, technology continues to assist companies all over the world with connecting during a global pandemic. We're proud to have been part of FST Media's recent conference, bringing together more than 20 speakers from New Zealand and Australia for a two-day talk on technology and digital innovation in financial services, and strengthening defences and data protection.
New Zealand's Cyber Security Strategy 2019 has highlighted how collaboration between individuals, businesses and communities is crucial to securing New Zealand's digital economy and growth. As the financial services industry faces increasingly complex and modernised cyber threats, organisations must scale cyber security capabilities to protect customer data and business systems. This year's conference gathered 400+ senior executives across New Zealand's financial services sector – including experts in technology, strategy, digital and innovation – over two packed half-days of discussion, debate & insight. Below is a snapshot of the agenda on Accelevents/FST's website.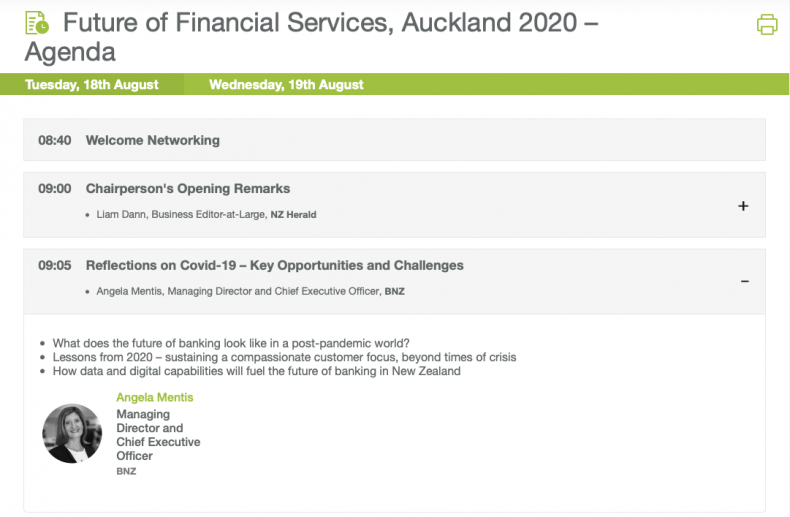 We were approached in early July by the team at FST Media, based in Sydney, who were looking for a New Zealand provider to help with running a virtual conference. The conference involved keynote presentations, panel discussions and one-on-one interviews with talent based in New Zealand and Australia. The plan was to pre-record everything over two days at the end of July, with all talent coming into an Auckland based studio to give their presentation, or connecting with our technicians remotely to give their presentations from home. 
The FST team spent two weeks putting together a solid schedule for two days of pre-recording with more than 20 speakers, which didn't go without some hitches! But by the end of July, two weeks out from the conference, we had most of the content we needed to start pulling the conference together.
The conference was run through an online webinar platform called Accelevents, which offers:
A simple user interface
Registration pages and automated email invitiations/reminders
The ability to flick between individual speakers/sessions depending on what you're interested in
Branded event pages with easy integration to company websites 
On the days of the conference, Tandem's job was to stream all the pre-recorded content out "as live", but also switch to a live q&a at the end of each speaker session with the speakers dialling in and answering questions via Zoom. We had two technicians on the job based in Auckland and Christchurch, piggy backing each session stream to Vimeo (which was embedded into the sessions in Accelevents) and briefing each speaker on their q&a section before they went live. The team at FST in Sydney were moderating the Zoom call, managing each speaker in the waiting room and running a google doc with the questions from the audience coming through as they were asked. 
We were lucky that all streams on the day went without a hitch, with every speaker joining on zoom at the beginning of their presentations as they were played out as live, and no issues with anyones internet connections. It was a huge job for the team involved, but one of the most interesting we've been invovled in due to the individual technological elements needed.
Thanks so much to FST for giving us the opportunity to be involved, each time we run something virtually we learn something new, and we're excited to keep sharing that knowledge with more companies as the COVID pandemic continues as we keep exploring new ways to connect from home. 
If you'd like to talk to us about how we can help you run your conference virtually, drop us a line.